Woke up late again. (Idiot on bongos, hard bed, hot, etc etc.) Julie's guesthouse for the win! Lauren was a bit worried that our original plan has been abandoned so she wanted to get some planning done. I felt like just lying on the cushions in the garden area and saying things like "Chill out maaan, you're killin my groove…" but I stepped up to my boy-friendly duties and helped. Ended up getting some money off Laurens friend so we could spend a week looking after some dogs. I'm not too keen as I picture myself just shovelling turds for most of the day while dodging their rabid jaws but hey, it's only costing me 45 quid for the whole week so I'm saving money overall as accommodation and food is included and that's always good. There's a chance to pet elephants too so it could go either way.
Reserved a bungalow in Pai (pronounced "bye"—who knew!) which is basically a toilet-less shed on stilts but its only ฿150/night. "Tony's Bungalows" its called. I doubt his name is Tony. They need stilts 'cos there are mudslides and floods all the time. Wiped out the village in 2005. It was my idea to go here cos it's way out up the hills so there are views and we can save money by just reading all day and laying about outside. There are also walks you can go on as it's in a place with loads of trees so it might be nice, assuming we don't get swept away and drown in a tidal wave of dirt.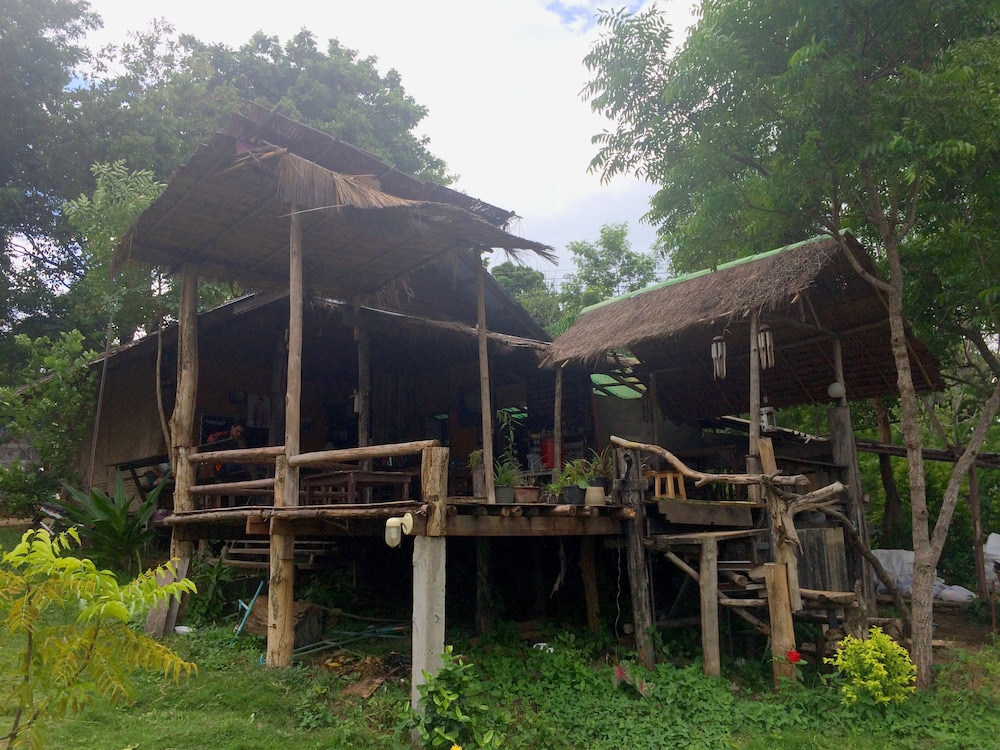 We spent the rest of the day looking around for these cool vests I saw the other day as I only have two tops and I have to keep washing 'em all the time. Turns out that after hours of walking it was in the opposite direction. I knew we should have brought a compass. We accidentally found a temple we were looking for yesterday (we thought we found it yesterday but it was the wrong one) among others. Probably go tomorrow and chat to a monk. They have monk chat sessions to improve their English. Didn't really see anything new on the walk, although got a slightly more Thai feel I suppose on the west side. The wall is all the same, I'll tell you that for free. Once you've seen one bit of its rubble-y remains you've seen it all.
We walked back and forth over one section like four times and it took ages. We nearly got a taxi but we eventually just found our way back to the hotel ourselves. The bongo man was still at it. We don't know where its coming from but he's got a friend with a guitar now. It's not even good, it's just a load of layabouts thinking they're cultured and spiritual because they're in a different city and know two chords and a little tune on the jungle drums. Unbelievable. There's a guy who's always in the garden area, never has his top on, has a little tribal number on his ankle and is covered in beads. If this were Cluedo I'd be saying I accuse the mentally-incompetent German on the rooftop with the bongo drums.
What else did we do today…oh yes, we had a couple of warm beers from the fridge while we read our books (Lauren, The Dark Tower; me, Sherlock Holmes), found a massive snail, ate a load of cheap biscuits from the 7-11, thought about buying a fresh coconut and drinking it with a straw and found a water machine that gives you a litre of clean water for a baht instead of about ten. Thing is though, there is no English on it. Almost like they don't want us to know. It is a bit tepid though.
It's about 3am here and I can still hear the drums going. At least I think I can. I might just be going a bit mad.